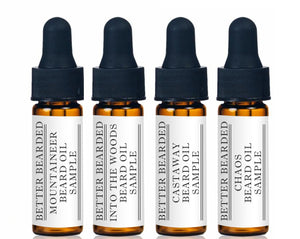 Our beard oil sample pack has FREE SHIPPING and you can choose four original beard oil scents to try, plus a coupon for your first order. The sample sizes come in .13 fl oz and are about the size of an AA battery but not quite as tall.
Uniquely scented, non-greasy, quick absorption, and not too heavy or light. Our oils are perfectly balanced with high-quality ingredients, 100% pure and natural.
Dragon's Eye: Orange, cedar and patchouli.
Pagoda: Sandalwood.
Mountaineer: Lavender, lemongrass, palmarosa, cedar, geranium and sage.
Ice Storm: Peppermint.
Wildwood: Cedar & Sage.
French Quarter: Tonka bean, sandalwood, rose and Buddha wood.
Outlaw: Vetivert, opoponax, amber and cumin.
Celtic Cliffs: Sweet, fresh and clean with notes of green clover.
Kingsmen: Spice, cedarwood, bergamot and zest.
Into The Woods: Fir Needle.
Chaos: Sweet and spicy blend of patchouli, vanilla and black pepper.
Castaway: Tropical Flowers.
Stealth: Unscented.