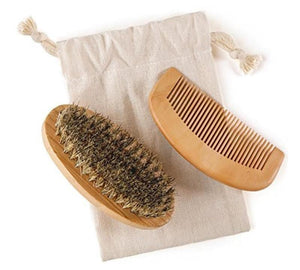 Get your groom on with our Better Bearded Boar's Hair Brush and handcrafted Beard Comb! The best two beard-taming tools on the market in one awesome beardo pack! Preserve your beard's natural proteins and be ready to have a smooth, sexy beard anytime, and anywhere!
Handcrafted in to perfection, our Boar's Hair Brush features 100% natural boar's bristles set in a beautifully crafted olive wood handle.  Boar's bristles are the preferred beard brush bristle material thanks to their texture, which is uniquely suited to beard care.
Their microscopically scaled texture helps to rid beards of dust, contaminants, and excess product, while helping to distribute your natural hair oils throughout the length of your beard.
Detangle and smooth your beard with our Better Bearded Beard Comb quite possibly the manliest comb ever made.  Hand crafted to perfection, this small, lightweight comb is the perfect fit for your back pocket and on-the-go bearding!