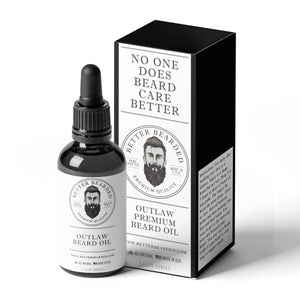 Can you Imagine if Jesse James had used this rich sweet and spicy blend when robbing banks? We can't either.
Scent Profile: Vetivert, opoponax, amber and cumin.
Beard Oil Benefits:
Straightens the hair
Moisturizes the skin and hair
Antibacterial
Softens hair; no more scratchiness 
Eliminates dandruff aka. "beard-druff"
Tames and gives style to hair
For more on beard oil & balm benefits click here.
Instructions: Use daily after washing your face or a shower. Apply to a damp beard but not wet. Drop 2 to 5 drops or more of beard oil into palm. The longer the beard the more drops, shorter, less. Rub oil between palms and then massage into face and then beard. You want to get to the roots and your skin beneath your beard. You may use a beard comb if your beard is very long or tangles easily. 
Ingredients: Ingredients: Beard Oil Premium Blend with abyssinian, apricot, grapeseed, almond, and coconut oils.