Mountain Man Men's Handmade Soap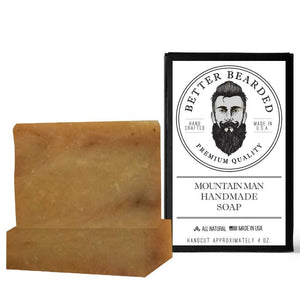 Fresh as a mountain breeze (cue John Denver) with the scents of lavender, cedar, lemongrass, palmarosa and herbs. Did we mention this bad boy is all natural? This is our top rated soap and it's easy to tell why within the first use. We hand cut and sell more bars of this scent than anything else.
Ingredients: Organic Palm Oil, Water, Organic Sunflower Oil, Organic Coconut Oil, Sodium Hydroxide, Organic Olive Oil, Lavender Essential Oil, Lemongrass Essential Oil, Palmarosa Essential Oil, Cedarwood Essential Oil, Geranium Essential Oil, Clary Sage Essential Oil, Parsley Powder, Lavender powder.
Handmade in the USA. All Natural & 100% Vegan.
Excellent Soap
This soap stunk up my entire bathroom with its amazingly awesome scent! Big fan of that! After using it all over, I didn't feel dry. Just clean and fresh. I also use it in my beard and found that it washed relatively gently. Highly recommend this product!!