Mountaineer (Lavender & Sage)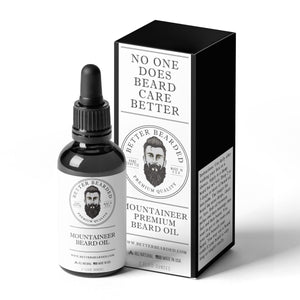 The unmistakable aroma lingers in the high mountain breeze, filling your senses with the promise of thrilling adventure. Just don't forget to bring this unique blend with you on your next escapade, you never know what just might happen.
Scent Profile: Lavender, lemongrass, palmarosa, cedar, geranium and sage.
Beard Oil Benefits:
Straightens the hair
Moisturizes the skin and hair
Antibacterial
Softens hair; no more scratchiness 
Eliminates dandruff aka. "beard-druff"
Tames and gives style to hair
For more on beard oil & balm benefits click here.
Instructions: Use daily after washing your face or a shower. Apply to a damp beard but not wet. Drop 2 to 5 drops or more of beard oil into palm. The longer the beard the more drops, shorter, less. Rub oil between palms and then massage into face and then beard. You want to get to the roots and your skin beneath your beard. You may use a beard comb if your beard is very long or tangles easily. 
Ingredients: Beard Oil Premium Blend with abyssinian, apricot, grapeseed, almond, and coconut oils with essential oils of lavender, lemongrass, palmarosa, cedar, geranium & sage.
Excellent Oil
I bought this oil because I tried the balm of the same scent a while back and loved it!! Definitely recommend this product!! I've tried a lot of different beard products and found that many don't have too strong of a scent. This oil is the outlier and I love that about it! The scent is amazing and I can smell and feel it the whole day!!