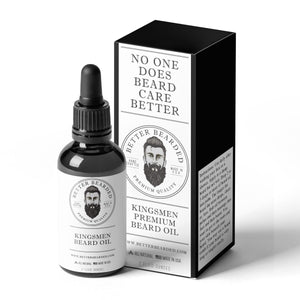 He tapped his cane on the bar and said to the bartender, in a clipped British accent "Martini, straight up. Shaken, not stirred." The fact that he was from Pittsburgh and in the local Hooters didn't matter, he was wearing Kingsmen.
Scent Profile: Spice, cedarwood, bergamot and zest.
Beard Oil Benefits:
Straightens the hair
Moisturizes the skin and hair
Antibacterial
Softens hair; no more scratchiness 
Eliminates dandruff aka. "beard-druff"
Tames and gives style to hair
For more on beard oil & balm benefits click here.
Instructions: Use daily after washing your face or a shower. Apply to a damp beard but not wet. Drop 2 to 5 drops or more of beard oil into palm. The longer the beard the more drops, shorter, less. Rub oil between palms and then massage into face and then beard. You want to get to the roots and your skin beneath your beard. You may use a beard comb if your beard is very long or tangles easily. 
Ingredients: Ingredients: Beard Oil Premium Blend with abyssinian, apricot, grapeseed, almond, and coconut oils with our ocean breeze vegan fragrance oil.
Outstanding and Versatile
An excellent oil and incredible scent. Texturally, I'd say this oil is medium viscosity with very nice coverage. I tend to go a bit heavier on the oil and this leaves my beard nicely hydrated without being overly oily.
The scent is beautiful - clean, understated, soapy, and sweet. I've only recently gotten into beard oils and the bearding community more generally, but I've tried well over 2 dozen scents from several different companies (all high quality). I think this one is my favorite to date, if just for the the sheer number of occasions for which it is appropriate. It's great at the office, great after the office, and great before bedtime. You cannot go wrong with this scent. This is a classic.
The Royal oil for your man mane!
The Kingsmen beard oil by Better Bearded is my favorite scent to date! I've tried almost the entire list of scents in either balm or oil form and this fresh, zesty and clean smelling oil is my favorite!
Take a moment to admire the the beautiful yet minimalist packaging, then open it up. Safety sealed so you know it hasn't been tampered with, you haven't received someone's leavings!
Open the bottle and bask in this vibrant yet subtle scent!
As you put a few drops on your hands feel the thick smooth texture! It's not runny or watered down!
And it smells and feels even better as you rub it on your hands and put it in your beard! The scent is clear and clean, warm and fresh! And it's great for your beard!
Maybe you've gotten used to your nose getting assaulted by harsh fragrances from other beard oils? Are you sick of smelling like a hippie? This scent can be worn all the time! Special events, work, play, it's all the same wearing Kingsmen!
Customer service at Better Bearded is top notch! If you have questions they will help answer them!
I received this bottle gratis but was not asked to write a review. I have purchased quite a few items from Better Bearded and highly recommend them.