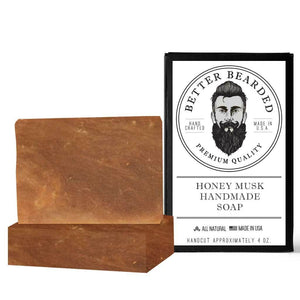 Our Amber Musk handmade soap is a rich blend of earthy amber honey notes, classic sandalwood and musk finished with a bright note of a citrus. The perfect combination of scents that are light and not overpowering.
Ingredients: Olive Oil, Water, Coconut Oil, Sodium Hydroxide, Organic Palm Oil, Shea Butter, Fragrance Oils, Crushed Apricot Seed, Parsley Powder, Turmeric Powder
Handmade in the USA. All Natural & 100% Vegan.