Celtic Cliffs (Fresh & Green Clover)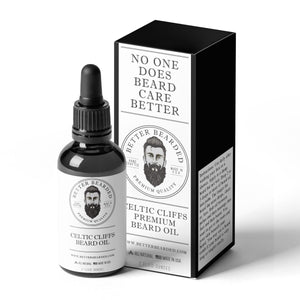 Let's be honest, have you ever seen a leprechaun with a bad beard? From Ireland to you.
Scent Profile: Sweet, fresh and clean with notes of green clover.
Beard Oil Benefits:
Straightens the hair
Moisturizes the skin and hair
Antibacterial
Softens hair; no more scratchiness 
Eliminates dandruff aka. "beard-druff"
Tames and gives style to hair
For more on beard oil & balm benefits click here.
Instructions: Use daily after washing your face or a shower. Apply to a damp beard but not wet. Drop 2 to 5 drops or more of beard oil into palm. The longer the beard the more drops, shorter, less. Rub oil between palms and then massage into face and then beard. You want to get to the roots and your skin beneath your beard. You may use a beard comb if your beard is very long or tangles easily. 
Ingredients: Ingredients: Beard Oil Premium Blend with abyssinian, apricot, grapeseed, almond, and coconut oils with our ocean breeze vegan fragrance oil.
Love this oil!
Nice clean smell, not a heavy cologne smell. Oil soaks in quickly but scent lasts a long time.
Smells Awesome
1st time using beard oil it smells really good makes my beard soft. Will buy again.