Cedar 'n Sage Handmade Soap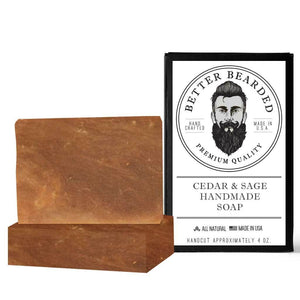 Get that forest smell without having to break out the hiking gear. If you love the great outdoors this soap will remind you of a hike in cedar forests during the spring. The combined scents of Sage and Cedar will leave you feeling uplifted, refreshed and distinguished.
Ingredients: Saponified Olive Oil, Water, Coconut Oil, Sodium Hydroxide, Organic Palm Oil, Shea Butter, Natural Fragrance, Cedarwood Essential Oil, Clary Sage Essential Oil, Rosehip Powder.
Handmade in the USA. All Natural & 100% Vegan.