Campers Friend Handmade Soap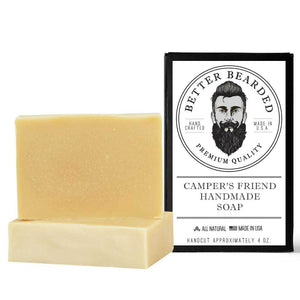 Here in the mountains, outdoors is King.
All outdoor sports and hobbies, from fishing, hunting, camping, hiking, biking and so many others, are celebrated every day along our trails, back roads and everywhere in between. We celebrate them here at Better Bearded too, by creating soaps to help you enjoy our region and all nature activities.
Whether you need daytime protection like bug repellent or evening protection for controlling campfire odors or soothing sunburned skin, we created a soap to help you get the most out of your outdoor activities.
This recipe has worked for us for over 6 years and is a great natural alternative to DEET. Perfect for the kids when you don't want to spray chemicals on them but want to keep the critters away.
Ingredients: Saponified oils of soybean, olive, coconut & shea butter, essential oils lemon eucalyptus, citronella, cedarwood, lavender, color: yellow pigment.
Handmade in the USA. All Natural & 100% Vegan.