Chaos (Spicy Vanilla & Black Pepper)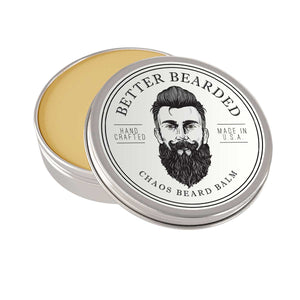 Next time you're in a bar fight or playing rugby with drunk Australians, take a second to rub in this bad boy. You'll still get mangled, but the ER nurses will love it.
Scent Profile: Sweet and spicy blend of patchouli, vanilla and black pepper.
Our beard balm has an unmatched smooth texture and consistency. It is easily workable while applying yet strong enough to take on the most unruly beards. Available in an variety of amazing scents, it's what makes us different than other beard companies out there.
Directions for use: Use daily after washing your face or after you shower. Apply to a dry not wet beard for best results. Scrape out a dime sized amount of balm and rub between your palms. Run your fingers through your facial hair, starting from the neck and working up, making sure to rub balm into the skin where your beard grows.
Ingredients: Beard Oil Premium Blend with Organic Sunflower Oil, Beeswax, Shea Butter, Cedarwood and Sage Essential Oils.
Made in USA. Made with Beeswax. Never animal tested!
Please note: Beard balms are "heat sensitive". In the summer they may melt in shipping depending on your region. If your area is HOT you may consider not ordering balms until the weather cools. We will not be responsible for product that is melted in shipment, this will be solely at the discretion of the purchaser.