Active Charcoal Handmade Soap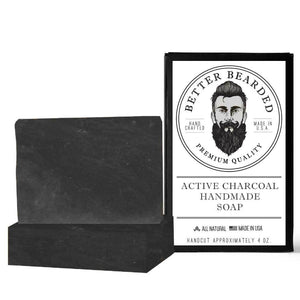 Soak up impurities and purify your skin using our charcoal based men's soap bar. This natural soap bar for men provides a frothy lather that deeply cleanses without drying out the skin, while our oils create a refreshing light lemony scent. 
A perfect daily soap bar for men.
Ingredients: Ingredients: Organic Palm Oil, Water, Organic Sunflower Oil, Organic Coconut Oil, Sodium Hydroxide, Organic Olive Oil, Activated Charcoal.
Handmade in the USA. All Natural & 100% Vegan.